New assays: For Pregabalin, Gabapentin and Methylphenidate in urine
Three new assays have been introduced to Viapath's Toxicology Unit at King's College Hospital. They are for identifying pregabalin, gabapentin and methylphenidate in urine and requesting these assays may aid clinicians to monitor adherence to treatment, and/or detect illicit use of these drugs.
Pregabalin and gabapentin are prescription drugs that are used therapeutically for the treatment of epilepsy and neuropathic pain. Pregabalin may be also be used in the treatment of generalised anxiety disorder. In May 2015, Public Health England and NHS England issued advice to prescribers on the risk of misuse of gabapentin and pregabalin and both drugs are abused for their sedative and relaxant effects.
Methylphenidate is a psychostimulant prescribed as a first-line treatment in Attention Deficit Hyperactivity Disorder (ADHD). It undergoes extensive metabolism, with ritalinic acid being the major urinary metabolite. When methylphenidate is taken concurrently with ethanol, the metabolite ethylphenidate may be formed. More recently, ethylphenidate has been marketed as a 'legal high' and is abused for its stimulant effect. The methylphenidate assay detects methylphenidate, ethylphenidate, and ritalinic acid (each reported separately).
Making a test request
A urine sample should ideally be collected into a universal container and can be transported at room temperature. Each of these new assays can be requested on their own or in addition to a urine drug screen.
For further information please contact: Viapath's Toxicology Unit at Kings College Hospital
Tel: 0203 299 5881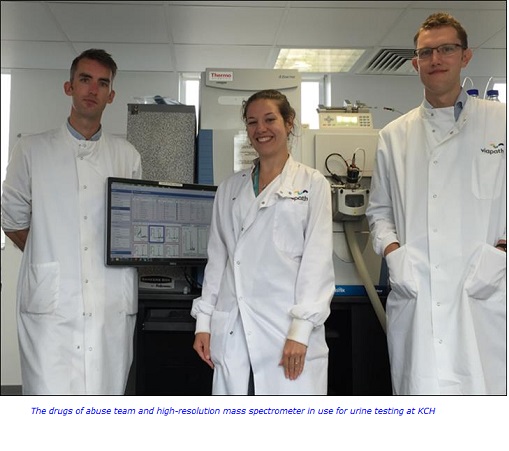 References
Abuse and Misuse of Pregabalin and Gabapentin    Kirk E. Evoy, Megan D. Morrison, Stephen R. Saklad. Abuse and Misuse of Pregabalin and Gabapentin. Drugs, March 2017, Volume 77, Issue 4, pp 403–426