Viapath Career Development Programme
The Future Leaders in Innovation group consists of Viapath employees who are driven to stimulate and encourage positive change within the organisation, and ultimately shape the future of pathology services. One of the innovative new projects that has stemmed from the Future Leaders is the Viapath Career Development Programme (VCDP), the pilot event of which was held on June 9th, 10th 2017. The VCDP was created with the vision of giving Viapath employees, who are at the early stages of their scientific careers, the essential knowledge and skills to achieve their career aspirations. Over the course of two days delegates were  given the opportunity to listen to a variety of presentations and participate in numerous practical activities, that not only  gave the foundation knowledge and skills required in diagnostic laboratories but also offered a wealth of key transferrable skills. Here are some of the highlights:
The Career Pathway
The inaugural lecture was given by David Wells, Director of Operations for Viapath's Reference Pathology Services, who talked about his inspiring journey from the start of his career to where he is today. David began his career as a Medical Laboratory Assistant in the Haematinics laboratory at Addenbrooke's Hospital and qualified as a state-registered biomedical scientist. This led to more senior and managerial scientist roles, involving setting up a Trace Elements Laboratory from scratch, and ultimately led to his current role at Viapath.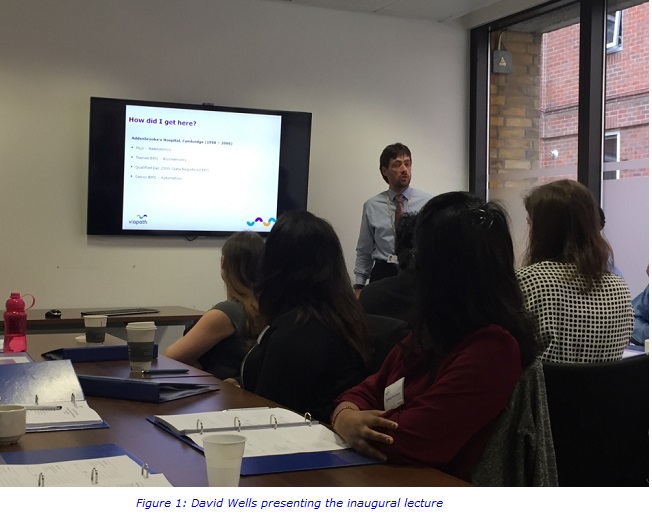 David's lecture was followed by some short talks about what being a clinical and biomedical scientist entails and how this differs from a genetics career pathway. For instance, in order to qualify as a biomedical or clinical scientist, the Health and Care Professions Council (HCPC) sets certain standards of proficiency that trainees must meet by completing a pre-registration portfolio which is then verified by an external examiner. Moreover, working in laboratories within the genetics department can also involve the role of healthcare science practitioners who have particular expertise in applied scientific techniques used in the diagnosis of disease.
CV Writing and Interviewing Skills
Next, Rakhee Patel and Paul Sadler, who are part of Viapath's recruitment team, conducted a session on how to wow a potential employer, to stand out amongst the crowd and get that dream job! They gave key advice on how to master the art of writing a good CV and an accompanying personal statement,  along with how to win over an employer at the interview stage.
Next Generation Sequencing
'HLA typing – Next Generation Sequencing' followed where Dr Robert Collins, Clinical Scientist and Deputy Director of Viapath's Clinical Transplantation laboratory at Guy's Hospital, explained the role of Human Leucocyte Antigens (HLA) in the immune response and the high level of variation within a population of HLA genes.
How to conquer scientific calculations
David Card, Clinical Scientist in Viapath's Human Nutristasis Unit at St Thomas' Hospital, gave some helpful tips on how to conquer scientific calculations commonly used in the laboratory, such as the use of creatinine clearance, a commonly used marker for renal function and the importance of utilising statistics when evaluating calibration and quality control data in the analytical stage of patient sampling.
A Masterclass on Pipetting
Aimee Rhodes, Clinical Scientist in Viapath's Immunology laboratory at King's College Hospital, tested delegates with a series of challenges in a Pipetting Masterclass which focused on the fundamentals of using a pipette correctly. This interactive session highlighted the necessity of both accuracy and precision and involved serial and multichannel pipetting as well as quantifying the accuracy of a pipette.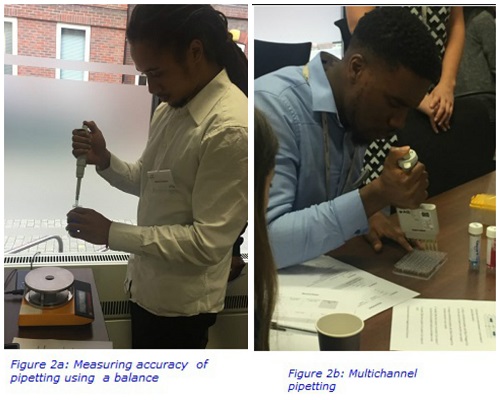 A Case Study on Myeloma
Day two kicked off with a fascinating case study on multiple myeloma, presented by Lauren Pitt, Medical Technical Officer in Viapath's Cancer Genetics laboratory at Guy's Hospital, and Aimee Rhodes. The progression of the disease within a patient and the most common presenting features were discussed as well as the repertoire of tests used to diagnose the disease. The heterogeneous nature of this disease requires the test results from several laboratories within different disciplines, such as haematology, biochemistry, genetics and immunology, all of which are required to make a diagnosis and monitor disease progression. This case study will be presented in a future edition of this newsletter.
CPD and Evidence-based Portfolios and Interpreting Manual Techniques
Vikki Woollett-Calnan, Biomedical Scientist in Viapath's Blood Transfusion laboratory at King's College Hospital, gave an incredibly useful presentation about Continuous Professional Development (CPD) and evidence-based portfolios and how these are core aspects of gaining HCPC registration as a clinical or biomedical scientist. She gave examples of the different ways to maintain CPD such as reading journals and articles, working through case studies, attending conferences to name a few. Vikki also emphasised the importance of reflecting on one's practice and implementing new knowledge and skills into every day practice.
Louise James, Biomedical Scientist in the Reference Chemistry laboratory at King's College Hospital,  and Vikki Woollett-Calnan outlined the use of manual techniques still utilised in diagnostic laboratories. Examples given included the use of fluid crystals to identify crystalline structures in joint fluid allowing the differentiation between gout and pseudogout; the use of blood films, a vital investigation performed in every haematology laboratory, and their use in the diagnosis and monitoring of haematological diseases such as malaria, haemoglobinopathies and myelodysplastic disorders.  
Discover Your Strengths
Finally, Dominic Harrington, Viapath's Chief Scientific Officer, closed the event with some words of motivation for all the attendees such as "discover your strengths and make them your unique selling point" and, most importantly, "be yourself".
The delegates left feeling inspired and more than ready to take on the next steps towards their career. The pilot programme established a strong foundation with the potential for an annual event and being accessible to both external and internal Viapath employees.
Links:
Listen to Pathology Podcasts from Future Leaders in Innovation Group at http://www.viapath.co.uk/news-and-press/pathology-podcasts-from-viapath%E2%80%99s-future-leaders-in-innovation-group