Measurement of Direct Oral Anticoagulants
History of anticoagulation
For more than 50 years, the vitamin antagonists have been the anti-coagulants of choice for treatment and prevention of venous thromboembolism (VTE). The main advantages were the mode of intake and reversibility. The high bioavailability and high-water solubility made them desirable too. Although these agents have served the patients well over the years, their use is not without challenges.
Disadvantages of the Vitamin K Antagonists
The vitamin K antagonists have been associated with increased risk of bleeding particularly intracranial haemorrhage. The main disadvantage of these anticoagulants is the interactions with foods and other drugs; medicinal and recreational. The interindividual variability and unpredictable pharmacokinetics, makes monitoring a must, and this comes with extra costs. The Vitamin K antagonists have also been associated with embryopathy and foetopathy. Direct oral anticoagulants were therefore developed as an improvement.
What is a good oral anticoagulant
A good anticoagulant is one that can be taken orally. It should be quick acting and should not interact with food or other medicines. A predictable pharmacokinetic (PK) and pharmacodynamics (PD) would remove the need for individual dose adjustments. 
An ideal anticoagulant should also have a specific target and be reversible in case of an accidental or intentional overdose.
Direct Oral anticoagulants (DOACS)
Many of the old anticoagulants were a product of serendipitous discoveries. The arrival of the synthetic direct oral anticoagulants will help in some of the issues identified with the old generation anticoagulants. The main DOACs can be divided into 2 groups, the direct thrombin inhibitors, dabigatran and the factor Xa direct inhibitors; Rivaroxaban, Apixaban and Edoxaban. The advantages with this group of anticoagulants is that they are taken orally, have specific targets and are said to have a predictable PK and PD, having minimal interactions with other medicines and not require monitoring or dose adjustments. 
Our Experience at Viapath and King's College Hospital (KCH)
Being early adopters of the DOACs, we have first hand experience of patients on these drugs and listed below are articles that have culminated from collaborative work between the Haemostasis laboratory staff and clinical team at KCH, a convergence of expertise. Although it was argued that the dosing strategy adopted was based on data from large clinical trials, it is well recognised that clinical trial populations do not necessarily represent real-world populations, particularly older and/or frail adults in whom significant use of these agents is likely. There are therefore situations when it will be helpful to measure the drug level. Examples under which measuring may be useful include:
Haemorrhage
Suspected overdose
Presence of interacting drug
Renal impairment
Extreme body weight
Emergency surgery pre-assesment
To monitor efficacy in patients presenting with a thrombosis while anticoagulated
Assess compliance/ adherence
During bridging
Post intestinal surgery were absorption rates may be affected
Trough levels to assess potential accumulation in very elderly patients
Testing of DOACS at KCH
The British Committee on Standards in Haematology guidelines on monitoring non-coumarin anticoagulants recommend that laboratories determine the sensitivity of their routine assays to the DOACS. They have also published target trough and peak levels for prescribers to aim for.
The Viapath laboratory at KCH introduced testing for drug levels under specific conditions including total drug measurement using turbulent flow liquid chromatography with high resolution mass spectrometry and activity tests for the agents. 
Direct Thrombin inhibitor: Dabigatran
Viapath's laboratory uses a chromogenic Ecarin assay to measure activity of the drug and utilises this to determine the level of drug in the sample. In this assay snake venom is used to activate prothrombin to meizothrombin. Meizothrombin acts on the chromogenic substrate to generate colour. This reaction is inhibited by dabigatran; therefore, the intensity of the colour change is inversely proportional to the amount of the drug in the sample. Routine tests like thrombin time and activated partial thromboplastin time (APTT) are sensitive to this drug.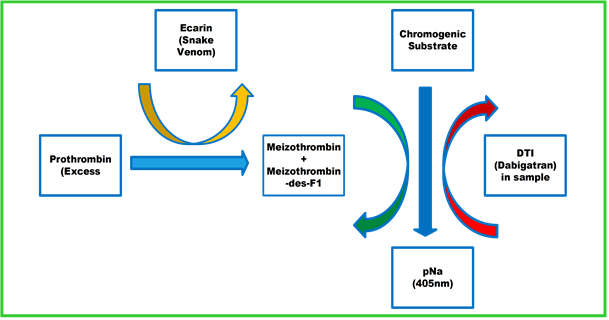 The laboratory, in conjunction with the KCH thrombosis team, developed a haemorrhage protocol to be employed in the emergency department should an anticoagulated patient present with a massive haemorrhage. As the APTT using the laboratory reagent is positively related to dabigatran drug levels, a normal APTT suggests that the bleed is unlikely to be due to dabigatran overdose. Thrombin time is also very sensitive to dabigatran, therefore a normal result suggest the bleed is not due to an overdose.
Anti- Xa inhibitors: Rivaroxaban, Apixaban and Edoxaban
These factor Xa inhibitors are measured using a chromogenic Xa assay, but drug specific calibrators and controls are employed to determine the specific drug level. In this assay, excess amount of Xa is added into the reaction before a chromogenic substrate is introduced to the mixture. The Xa that has not been inhibited by the drug in the sample is responsible for cleaving the substrate resulting in a colour change. The intensity of the colour is inversely proportional to the amount of drug in the original sample.
Rivaroxaban and edoxaban have a positive relationship with the laboratory thromboplastin time and therefore a normal prothrombin time (PT) suggests the patient is not overdosed. The KCH thrombosis team guidelines recommend using PT as initial screen for patients presenting with a haemorrhage in the emergency department.
For further information, please contact Blood Sciences Department, King's College Hospital
Relevant Publications
Patel, J. P., Chitongo, P. B., Dighe, P., Roberts, L. N., Vadher, B., Patel, R. K. and Arya, R. (2018), Prothrombin times in the presence of edoxaban – in-vivo experience from King's College hospital. Br J Haematol. doi:10.1111/bjh.15101
Patel, J. P., Roberts, L. N., Chitongo, P. B., Patel, R. K. and Arya, R. (2013), More on normal prothrombin times in the presence of therapeutic levels of rivaroxaban – early experience from King's College Hospital. Br J Haematol, 162: 717–718. doi:10.1111/bjh.12423
Patel, J. P., Couchman, L., Chitongo, P. B., Flanagan, R. J. and Arya, R. (2015), New oral anticoagulants: dosing and monitoring. BMJ 2015 May 19;350:h2655. Epub 2015 May 19
Gous T, Couchman L, Patel JP, Paradzai C, Arya R, Flanagan RJ. Measurement of the direct oral anticoagulants apixaban, dabigatran, edoxaban, and rivaroxaban in human plasma using turbulent flow liquid chromatography with high resolution mass spectrometry. Therapeutic Drug Monitoring 2014; 36: 597-605