Improving Diagnostic Services for Unknown Sexually Transmitted Infections
Background
Currently, Viapath's Virology Laboratory at St. Thomas' Hospital provides a service for detection of pathogens causing sexually transmitted infections (STIs) using the Hologic Panther platform. This service, which offers testing for Neisseria gonorrhoea (the causative agent of gonorrhoea), Chlamydia trachomatis (the causative agent of chlamydia and lymphogranuloma venereum) and Trichomonas vaginalis (a causative agent of vaginitis and cervicitis in women, and occasionally urethritis and balanitis in men), will soon be expanded to include testing for Mycoplasma genitalium. This is a more recently discovered pathogen, which was first reported in 1981(1) and remains relatively unknown to the general population.
What is M. genitalium and why test for it?
M. genitalium is a small, flask-shaped, pathogenic Gram negative bacterium with a cell membrane but no cell wall, and lives on epithelial cells of the urinary and genital tracts of men and women. Although it was first reported in 1981, it was not until 1983 that it was reported as a new Mycoplasma species unrelated to any other known Mycoplasma(2).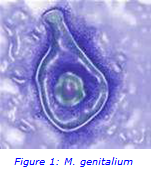 M. genitalium is a cause of non-gonococcal urethritis in men, and can also cause cervicitis and pelvic inflammatory disease in women. It is the second most common cause of non-gonococcal urethritis in men (behind chlamydia), however prevalence in the general population is currently low (<5%)(3). Higher prevalence rates are seen in men who have sex with men and those engaging in high risk sexual behaviours. Despite the current low prevalence, this infection has a significant impact as persistence and recurrence are common and approximately 40% of sexual contacts of a case will also test positive for this pathogen. Routine testing has not been widely performed due to the difficulty and time taken for conventional microbiological culture, limited availability of suitable molecular detection assays, and the time and cost associated with reference laboratory testing.
Despite the limitations that have prevented routine laboratory testing of M. genitalium, the need for laboratory diagnosis has become more acute, and testing is now recommended in UK National Guidelines(3, 4). In addition, antimicrobial resistance is becoming increasingly prevalent in M. genitalium, with approximately 40% of cases being resistant to macrolides such as azithromycin. A single dose of this antibiotic is the first-line treatment for gonorrhoea(5) (in combination with another antibiotic) and chlamydia(6) as this simple dosing regimen means there is good treatment compliance. This treatment can, however, cause the emergence of macrolide resistance in M. genitalium. The most recently published treatment guidelines for non-gonococcal urethritis from the British Association for Sexual Health and HIV (BASHH) now recommend seven days of doxycycline as first line treatment4, although this regimen has a treatment failure rate for M. genitalium of up to 68%(3). Azithromycin is used as an extended course (lasting 5 days) for the treatment of M. genitalium where there is no evidence of macrolide resistance. Where macrolide resistance is present or anticipated, a course of moxifloxacin is advised, but resistance to this is also on the rise. Dual resistance is becoming a problem in Japan and Australia, and could easily become more common in Europe. Alternative antibiotic options are extremely limited if doxycycline, azithromycin and moxifloxacin are ineffective. There is therefore a real possibility that M. genitalium may become the new superbug. In view of this, a test of cure is recommended after 3 weeks to ensure successful clearance of the infection.
What is the new test and how well does the test perform?
The Aptima M. genitalium assay uses transcription mediated amplification (a nucleic acid amplification technology or NAAT) to detect the ribosomal RNA in the bacterial cells. As there are multiple copies of ribosomal RNA, this assay is more sensitive than standard NAATs that detect a gene which is present as a single copy in each bacterial cell.
Verification of the assay was carried out in 2017. Specimens from genitourinary medicine (GUM) patients were tested and results compared with those obtained at the reference laboratory. In addition, collaborative work with Brighton and Sussex University Hospitals NHS Trust enabled us to assess performance of the Aptima assay with another commercial assay (FTD Urethritis Plus, Fast Track Diagnostics Ltd., Sliema, Malta). 279 samples were tested. Of these, 160 were from patients attending our local GUM clinic with symptoms of infection, or risk factors for infection. The remaining 119 were samples that had been tested in Brighton using another commercial assay. Overall, the Aptima assay performed well with slightly higher sensitivity than the real-time PCR assays used by other laboratories.
What can be expected from the new service?
The Aptima M. genitalium assay is suitable for vaginal swabs (clinician and self-taken), endocervical swabs, urethral swabs, and first-void urine samples. As part of our verification, rectal swabs and "3in1" (a rectal swab, throat swab and urine combined) samples were also validated, demonstrating high sensitivity with these sample types making the assay an attractive option for M. genitalium testing.
And in the future?
The assay detects the presence of M. genitalium, but does not provide information on the presence of gene mutations causing antibiotic resistance. Further work is therefore planned to validate another assay for detection of M. genitalium antibiotic resistance. Watch this space for further information as it becomes available.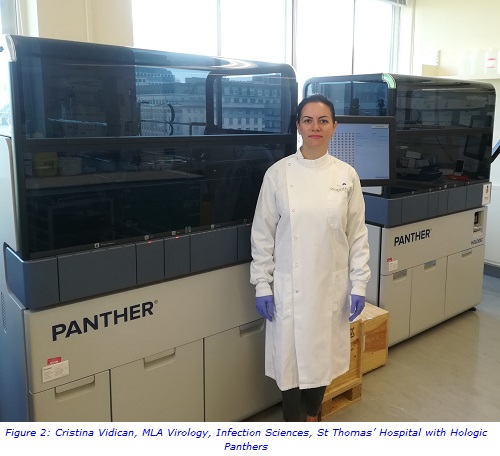 Where can you find out more?
Viapath website - http://www.viapath.co.uk/tests-index
Contact:
Penny Cliff – Clinical Scientist (Penny [dot] Cliff [at] viapath [dot] co [dot] uk)
Jane Mullen – Virology Operations Manager (Jane [dot] Mullen [at] viapath [dot] co [dot] uk)
Virology Enquiries (viroenquiry [at] gstt [dot] nhs [dot] uk)
 
References
Jensen, J. and Bradshaw, C. (2015). Management of Mycoplasma genitalium infections – can we hit a moving target? BMC Infectious Diseases 15:343
Tully, J.G., et al (1983). Mycoplasma genitalium, a new species from the human urogenital tract. Int. J. System. Bacteriol. 33:387
Horner, P. et al (2016). 2015 UK National Guideline on the management of non-gonococcal urethritis. Int. J. STD AIDS 27:85
British Association for Sexual Health and HIV (2017). https://www.bashhguidelines.org/media/1146/ngu-update-05_2017-final.pdf
Bignell, C. and Fitzgerald, M. (2011). UK national guideline for the management of gonorrhoea in adults, 2011. Int. J. STD AIDS 22:541
Nwokolo, N. C. et al (2015). 2015 UK national guideline for the management of infection with Chlamydia trachomatis.