Matthew Oakley
BSc MSc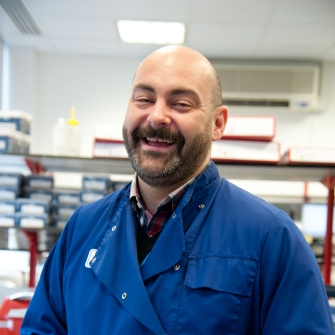 Senior Biomedical Scientist
Matthew obtained his state registration at King's College Hospital and worked on a rotational basis throughout the Haematology department. During this time he completed an MSc in Haemtology enabling him to progress to a Senior BMS within his preferred field (Haemoglobinopathies).
Having worked in the screening laboratory for nearly 4 years he knew that he wanted to progress from the Protein section to the Molecular DNA section in order to build on his abilities and develop a greater understanding of haemoglobinopaties as a whole. 
As a Senior BMS in the Molecular Haemoglobinopathy Laboratory (MHL) his primary role is the management of the Non Pre-Natal Diagnostic workload. This involves all aspects of laboratory work from the initial review and allocation of tests, the delegation and performance of diagnostic procedures, through to the final review and reporting of clinical cases with consultation of the lead clinical scientist.
Over the years that he has worked in the Molecular Haemoglobiopathies Laboratory Matthew has seen the workload and test repertoire increase and progress to form the current service. It has been rewarding to be involved in the evolution of the department with regards to the implementation of new protocols and testing procedures. He has been in his current post for seven years and still finds it very rewarding.
He is an Associate Member of the Institute of Biomedical Science (IBMS) and a Member of the British Society for Genetic Medicine (BSGM).
Publications:-
Helen Rooks, Barnaby Clark, Steve Best, Peter Rushton, Matthew Oakley, Onn Shaun Thein, Ann C Cuthbert, Alison Britland, Afruj Ruf, Swee Lay Thein. A novel 506 kb deletion causing εγδβ thalassemia, Blood Cells and Mol and Diseases, Blood Cells Mol. Diseases (2012), doi:10.1016/j.bcmd.2012.05.010
Sarmad Toma, Maria Tenorio, Matthew Oakley, Swee Lay Thein and Barnaby E. Clark. Two Novel Mutations (HBG1: c.-250C4T and HBG2: c.-250C4T) associated With Hereditary Persistence of Fetal Hemoglobin. Hemoglobin (2013) Oct 21.