Marie Jackson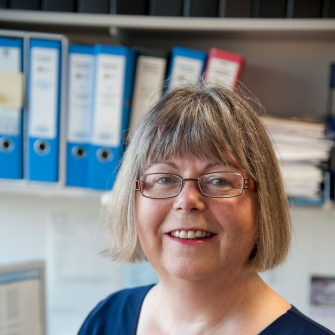 Head of Service Biochemical Genetics
Marie's interest in inherited metabolic disorders, and the lysosomal storage diseases in particular, started in 1980 when she joined the Laboratory for Genetic Enzyme Defects at the Paediatric Research Laboratories, Guy's Hospital. She continued to gain experience in this specialist field when she joined the Enzyme Laboratory at Great Ormond Street Hospital as Clinical Scientist in 1996, progressing to Principal Clinical Scientist. In 2008 she returned to Guy's Hospital to take up the position of Consultant Clinical Scientist and Director of the Biochemical Genetics Laboratory. 
"There have been great advancements in the diagnosis and potential treatments for these disorders since 1980. I have been extremely fortunate to work in two highly specialist laboratories making major contributions to advancements in this field and forming collaborations with colleagues both Nationally and Internationally."
Since August 2012, Marie has also acted as Interim Head of Service for the Molecular Genetics Laboratory. 
She is a Member of the British Inherited Metabolic Diseases Group (BIMDG): BIMDG Secretary since 2009 and has been a Member of the European Study Group for Lysosomal Storage Diseases (ESGLD) since 1980.
She is a Member of the Association of Clinical Biochemists (ACB). The metabolic laboratories, with the Paediatric and Adult metabolic services at Evelina London Children's Hospital, have been approved as a Nationally Commissioned Service.
She is a HCPC Registered Consultant Clinical Scientist.
Marie organised the BIMDG Annual Symposium 2013.
Working with Jayesh Sheth – she is currently helping to develop enzyme testing in the Indian Biochemical Genetics Laboratory to enable identification of the burden of LSDs in India.