Dr Jaime Eduardo Calonje
MD DipRCPath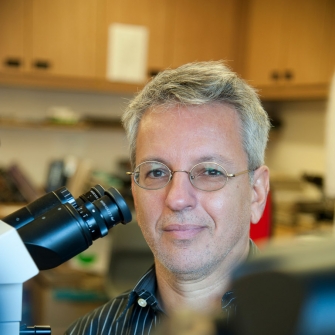 Consultant Dermatopathologist, Clinical Lead in Dermatopathology
Dr Calonje undertook his Dermatopathology training at St John's Institute of Dermatology at St Thomas' Hospital in 1990 and was appointed Consultant Dermatopathologist in 1996. He has worked here ever since and joined Viapath upon its formation.
One of his most significant achievements in his career to date was the editorship of the third and fourth edition of McKee's Diseases of the Skin with Clinical Correlations (Two volumes, Elsevier 2012), now regarded as one of the leading Dermatopathology textbooks in the world.
He is highly regarded in his field at both a national and an international level and has the highest number of referrals in the country. His teaching skills are very valued and he has given over 600 lectures both in the UK and around the world.
Dr Calonje has over 200 publications in peer-reviewed journals both in dermatopathology and in the field of soft tissues. He is the president of the British Society of Dermatopathology and a member of the Dermatology Section of the Royal Society of Medicine and of the International Society of Dermatopathology.
Papers, articles and events
Ramakrishan R, Chaudhry IH, Ramdial P, Lazar AJ, McMenamin ME, Kazakov D, Brenn T, Calonje E. Primary cutaneous adenoid cystic carcinoma: a clinicopathologic and immuonhistochermical analysis of 27 cases. Am J Surg Pathol 2013, 37: 1603-1611.
Martin B, Poblet E, Rios JJ, Kazakov D, Kutzner H, Brenn T, Calonje E. Merkel cell carcinoma with divergent differentiation: histopathological and immunohistochemical study of 15 cases with PCR análisis for Merkel cell polyomavirus. Histopathology 2013, 62: 711-722.
This year I have been an invited speaker to The European Society of Pathology, The Pathologic Society of Great Britain and Ireland, The European Academy of Dermatovenereology, The Australasian Society of Dermatopathology and The International Society of Dermatopathology.