Dr Robin Ireland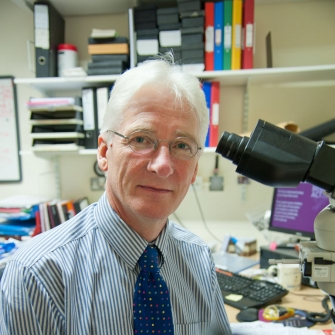 Consultant Haematologist and Lead for King's HMDC
Robin is a Consultant Haematologist at King's College Hospital and has been the Lead Clinician for the King's Haematological Malignancy Diagnostic Centre (KHMDC) since March 2007. 
The KHMDC provides specialist diagnostic services for haematological cancers and bone marrow failure syndromes to a population of approximately 4.5 million in Southeast England. It is the second largest fully integrated, single-site service implemented since NICE Haematology Improving Outcomes Guidance 2003 and is a national and international exemplar. Robin leads the translation of molecular research into service delivery for haematological malignancies.     
He is a member of the Department of Haematological Medicine which has a strong research base with particular interests in the Myelodysplastic Syndromes, Aplastic Anaemia, PNH, Chronic Lymphocytic Leukaemia, Lymphoma and Myeloma. Previously he was Medical Director for 5 years and  Lead Cancer Clinician for 2 years at the Queen Elizabeth Hospital, Woolwich before appointment to King's College Hospital.
Nationally Robin chairs the National Cancer Intelligence Network, Haematology Site-Specific Group and  has developed and implemented the national minimum dataset for haematological malignancies.  He is a Subject Matter Expert for the National Laboratory Medicines Catalogue RCPath project and was an advisor to the National Cancer Action Team on integrated pathology services for haematological malignancies and the Cancer Peer Review Measures.
As a founder member of the international European LeukaemiaNet group Robin has been involved in standardisation of flow cytometry in Myelodysplastic Syndromes and has co-authored several myeloid cancer immunophenotyping papers.
He is also an examiner for the Royal College of Pathologists and the Postgraduate Institute of Medicine, Sri Lanka.