Dr Robert Collins
BSc MSc PhD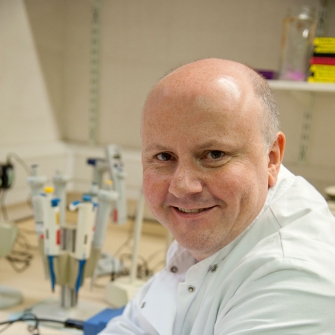 Deputy Director, Head of DNA & Stem Cell Transplantation
Robert joined Guy's and St. Thomas' NHS Foundation Trust in 1996 from NHSBT-Tooting as a state registered biomedical scientist, working in the routine serology and DNA sections of the Clinical Transplantation Laboratory.
He started a PhD in 1999 and in 2003 was state registered as a clinical scientist and became head of the advanced DNA section. 
In 2006 he took responsibility for the work supporting stem cell transplantation and in 2007, having completed his PhD, he became deputy director of the laboratory. 
In 2009 he was seconded to Viapath and assumed the role of operations manager.
His special interests include stem cell transplantation, sequenced based HLA typing and MHC class I chain related genes.
He is a State Registered Biomedical Scientist and State Registered Clinical Scientist.