Dr Debasmita Sarkar
PhD, FHEA, MBA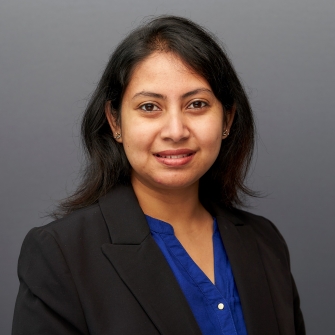 Debasmita grew up in India and moved to UK to pursue her doctoral research. With a strong interest in biological sciences from early days, she completed a BSc in Biotechnology, followed by a MSc in Biochemistry. Her research career started within the Tuberculosis drug discovery unit at AstraZeneca. With a continued interest in mycobacterial target identification and validation she went on to pursue her doctoral research in Molecular Microbiology working on 'Mycobacterial Glycolipids-Pathways to synthesis and role in Virulence' and obtained her PhD from The University of Birmingham in 2012.
During her postdoc at Aston University investigating interactions of the Amyloid precursor protein and mToR pathways, she developed a keen interest in laboratory operations management, enabling process improvements within diagnostic services and teaching in higher education.
With a diverse career pathway in science, she then moved on from academic research to pursue an operations role as a Programme Manager within the West Midlands Regional Genetics Laboratories based at the Birmingham Women's & Children's Hospital.  Within this role she was closely involved in managing laboratory operations, supporting training and development of the technical workforce and developing frontline managers.
Debasmita joined the Viapath Genetics laboratories at Guy's hospital in 2019 looking after overall operational management of the laboratory and delivering the successful execution of the genetics diagnostics service within the SEGLH hub laboratories.