Dr Agata Sobczyńska-Malefora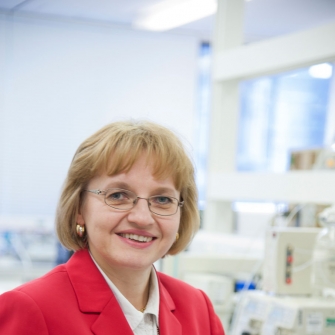 Principal Clinical Scientist
Dr Agata Sobczynska–Malefora is a Principal Clinical Scientist at The Human Nutristasis Unit (Viapath, St. Thomas' Hospital, London). She joined the Unit in 2000.
Her strong analytical skills, gained during the five year course towards an MSc in Chemistry (University of Wrocław), guided her initially towards improving and developing analytical methods, which included an addition of a methylmalonic acid in plasma test (functional marker of vitamin B12 deficiency) to the Unit's diagnostic repertoire in 2004. Her collaborative work with the Russian Institute of Haematology and Transfusion, St. Petersburg, investigating the prevalence of hyperhomocysteinemia and the MTHFR C677T polymorphism in patients with thrombosis influenced her research interests in the direction of one carbon metabolism which she pursues up to date. In 2010 she completed a PhD in Medicine (King's College of London) investigating hyperhomocysteinemia and B vitamins status in patients receiving oral anticoagulation therapy.
Her current research focuses on the diagnostic utility of static and functional markers for vitamin B12 and folate deficiency and the evaluation of the reference intervals for these markers. She believes in reference intervals of two or more dimensions and hopes to contribute to this concept in the future. She is particularly interested in one carbon metabolism in relation to cardiovascular and Alzheimer's disease and in diseases which affect the absorption of B vitamins. She believes in the acceleration of degenerative diseases of aging as a consequence of a long term suboptimal micronutrient status.
Agata has supervised a number of under-graduate and post-graduate students. She regularly provides training and teaching to doctors, scientists and staff members. She contributes to the training of undergraduate medical students at Guy's, King's & St. Thomas' School of Medicine through a provision of a Special Study Course and also contributes to King's College through other activities. She presents her work nationally and internationally.
She has been a Member of The Royal Society of Chemistry and Alzheimer's Society since 2000, and a Member of The Association for Clinical Biochemistry since 2003. She is a HPCP Registered Clinical Scientist (modality: Biochemistry).