Dr Colin Stone
MSc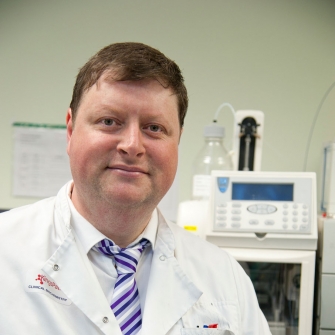 Dr Colin Stone is an experienced Biomedical Scientist with over 30 years of experience in Clinical Biochemistry. He initially started his career in 1986 at Great Ormond Street Hospital, where he specialised in investigation of inborn errors of metabolism using a range of chromatography techniques. After achieving HCPC state registration in 1990, he obtained a BSc (Hons) from the University of Westminster and an MSc from the University of Surrey.
In 1997, Colin joined the Clinical Biochemistry department at King's College Hospital, London. He soon became a Section Lead for the routine Endocrinology laboratory, and later Chief Biomedical Scientist for the Metabolic laboratory. In 2012, he was promoted to Service Delivery Manger for the Reference Biochemistry laboratories and in 2018 also was asked to manage the Trace Elements and Toxicology laboratories. In 2019, he obtained a Professional Doctorate in Biomedical Sciences from the University of Portsmouth for his thesis 'Variations in plasma dimethylarginines and bile acids in obese patients with type 2 diabetes and major depression'.
Colin remains actively involved in both Clinical Biochemistry and Toxicology method development, and leads a team of biomedical and clinical scientists delivering a robust laboratory service for specialist clinical investigations.