Barbara Czepulkowski
Bsc(Hons)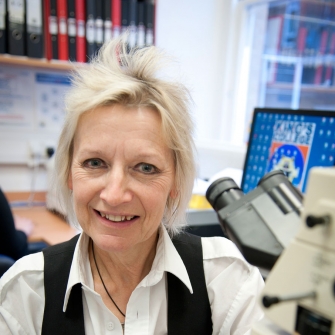 Consultant Cytogeneticist
Barbara joined King's College Hospital in 1990 following periods as Pendlebury Children's Hospital Manchester, St Mary's Hospital, Barts Hospital London and Guy's Hospital. She has been working in Cytogenetics since 1979.
She has built the laboratory from a one man show into a thriving Regional Cytogenetics diagnostic department with 10 staff. She is the Consultant head of the Cytogenetics Laboratory in King's College Hospital.
Since her arrival at King's, numerous hospitals which had previously sent their samples elsewhere began to send their bone marrow and blood samples to King's. The range of Hospitals covers the entire South East Thames region and beyond, including Norfolk and Norwich and Great Yarmouth. The excellent turn round times for urgent samples were noted by others, who also began to use the service. A number of privately funded hospitals also use the service.
The repertoire of tests has also increased vastly to the present date, including FISH for all haematological disorders including an extensive myeloma FISH panel.  The laboratory is also in the position to add innovative new tests to the diagnostic armoury and is always working towards providing the most up to date analysis for haematological disorders.
Barbara's key area of expertise is Haematological Cytogenetics, but she was also instrumental in the forefront of introducing the chorionic villous sampling test in prenatal diagnosis.  She has written numerous books in the field of Cytogenetics, and contributed to many scientific journals throughout her career. She is well known for public speaking and has given lectures nationally and internationally. She gives regular lectures on Cytogenetics in Bedford University, Luton Campus. 
Barbara is a member of the ACC and is HPC registered.
Recent Publications and Books
Papers:
TP53 mutations in myelodysplastic syndrome are strongly correlated with aberrations of chromosome 5, and correlate with adverse prognosis.
Kulasekararaj AG, Smith AE, Mian SA, Mohamedali AM, Krishnamurthy P, Lea NC, Gäken J, Pennaneach C, Ireland R, Czepulkowski B, Pomplun S, Marsh JC, Mufti GJ.
Br J Haematol. 2013 Mar;160(5):660-72. doi: 10.1111/bjh.12203. Epub 2013 Jan 9.
Reducing MCM levels in human primary T cells during the G(0)-->G(1) transition causes genomic instability during the first cell cycle.
Orr SJ, Gaymes T, Ladon D, Chronis C, Czepulkowski B, Wang R, Mufti GJ, Marcotte EM, Thomas NS.
Oncogene. 2010 Jul 1;29(26):3803-14. doi: 10.1038/onc.2010.138. Epub 2010 May 3.
Books:
Analyzing chromosomes
B Czepulkowski
Paperback: 184 pages
Publisher: BIOS Scientific Publishers (Dec 2000)
Language English
ISBN-10: 0387916091 ISBN-13: 978-0387916095
Human Cytogenetics: Essential Data (Essential Data Series)
D Rooney and B Czepulkowski
Paperback: 164 pages
Publisher: Wiley-Blackwell (22 Nov 1994)
Language English
ISBN-10: 0471950769 ISBN-13: 978-0471950769
Human Chromosome Preparation: Essential Techniques
D Rooney and B Czepulkowski
Paperback: 141 pages
Publisher: Wiley-Blackwell; Spi edition (16 Dec 1996)
Language English
ISBN-10: 0471962996 ISBN-13: 978-0471962991
Human Cytogenetics  A  Practical Approach
D Rooney B Czepulkowski
Paperback: 241 pages
Publisher: Oxford University Press; (1986)
ISBN-10: 947946-70-5
Human Cytogenetics I Constitutional analysis 2nd Edition  (Practical Approach)
D Rooney B Czepulkowski
Paperback: 274 pages
Publisher: Oxford University Press; 2nd edition (30 Sep 1992)
ISBN-10: 0199633134 ISBN-13: 978-0199633135
Human Cytogenetics II Malignancy and acquired abnormalities 2nd Edition (Practical Approach)
D Rooney B Czepulkowski
Paperback: 286 pages
Publisher: Oxford University Press; 2nd edition (30 Sep 1992)
ISBN-10: 0199633134 ISBN-13: 978-0199633135
Human Cytogenetics: Constitutional Analysis v. 1: A Practical Approach
D Rooney and B Czepulkowski
Paperback: 624 pages
Publisher: Oxford University Press; 3rd Revised edition  (28 Jun 2001)
Language English
ISBN-10: 0199638438 ISBN-13: 978-0199638437