Why urine steroid profiling is still the gold standard for identification of steroid-related disorders
Viapath's Urinary Steroid Profiling (USP) service is one of two Supraregional Assay Service-designated laboratories in the UK tasked with providing steroid metabolite analysis. This is especially useful for the identification of inborn errors of steroid metabolism and steroid-secreting adrenal tumours but can also help other investigations where changes in steroid production or metabolism might be part of the pathology. Steroid metabolite analysis utilises gas-chromatography-mass spectrometry, a long established technique, but one that is still unsurpassed for separation and positive identification of steroids.
Over many years of operation, the laboratory has established the identity of numerous previously unreported steroids in a never-ending quest to refine the usefulness of this approach. By liaising closely with clinicians about individual patients, new insights continue to be gained, such as the recent realisation that sodium loss in babies due to renal and cerebral causes  can be differentiated by this technique. Viapath's Urine Steroid Profiling Laboratory is always happy to be consulted about whether this approach might be informative in a current investigation.
How urinary steroid profiling can make the difference: A case study
Inborn errors of steroid metabolism may first be suspected in the newborn period. For example, a presentation of ambiguous genitalia might be due to diminished testosterone production in a male or an excess in a female; if they show biochemical evidence of salt wasting, this may be the result of inability to make or respond to aldosterone. 
A virilised (masculinised) female baby was born recently. She developed salt wasting. The most common cause of this is 21-hydroxylase deficiency. Much more rarely, the same clinical presentation may be due to 3B-hydroxysteroid dehydrogenase (3BHSD) deficiency. A urine steroid profile rapidly excluded 21-hydroxylase deficiency. A sample collected at 3 months of age, when the steroid biochemistry had sufficiently matured, clinched a diagnosis of 3BHSD deficiency.
Making a test request
For most purposes, an untimed urine sample is sufficient, but when assessment of steroid excretion rates would be informative, as in Cushing's syndrome, a 24 hour collection is preferable. The laboratory will always strive to get a useful result in difficult circumstances such as when only a very small sample can be obtained from a new-born baby. Samples can even be sent in the form of a wet nappy, which may help to avoid an expensive hospital stay.
Since all reports are individually generated, with a detailed comment that aims to answer the specific clinical questions that are raised, it is important to clearly state the reasons for the request and to give information on whether steroids or other drugs are being given. Steroid treatment can in some circumstances make interpretation difficult, so it is important to collect a sample before starting treatment wherever possible. These can be stored in a refrigerator pending a decision on whether the test is needed. The stated turnaround time for full reporting is 21 days, but results can be provided much faster if notice is given.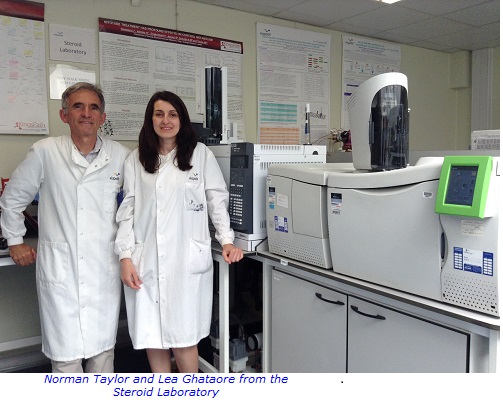 For further information contact:
Viapath's Urine Steroid Profiling Laboratory:
Direct line: 0203 299 4131
Norman Taylor, Consultant Clinical Scientist
norman [dot] taylor1 [at] nhs [dot] net
Lea Ghataore, Senior Clinical Scientist
lea [dot] ghataore [at] nhs [dot] net
Web:www.viapath.co.uk/our-tests/urine-steroid-profile