Viapath's Career Development Programme (VCDP)
In 2017, Viapath's Future Leaders in Innovation created the Viapath Career Development Programme (VCDP). The VCDP is a 2 day training course filled with a range of informative and interactive lectures that are directed to Viapath's junior staff members, particularly those who want to achieve career progression within healthcare science. Essentially, the main aim of the programme was that the delegates should gain important skills and knowledge about working in a diagnostic laboratory and use this to their advantage in their career journeys. This year's VCDP took place on 11th and 12th May 2018. 
An inspirational start
The VCDP was opened by Viapath's Divisional Operations Director for Reference Services, Analie Booth, who gave an inspiring talk about her career journey, from where she started through to how she progressed to her current role within Viapath. 
An introduction to Viapath's range of laboratory disciplines
Due to the vast range of laboratories within Viapath, it can often be quite difficult for junior staff to decide on which discipline to specialise their training in. To help them, a number of short lectures gave a snapshot into the different laboratory disciplines that are available at Viapath. The sections covered were Microbiology, Blood Sciences, Genetics, Immunology, Haemostasis and Bioinformatics.
The importance of excellent training
Viapath's Scientific Portfolio Training Officer, Andrea Wilson, presented an insightful session on collecting portfolio-based evidence. As the completion of a training portfolio is an essential step for a career in healthcare science, this session focused on the importance of receiving good training. To demonstrate this, the delegates were given the task of making origami flowers: firstly using a vague set of instructions, then with more detailed visual aids including diagrams and a video.
Scientific calculations and quality 
The delegates were also given the opportunity to improve their scientific calculation skills in an informative tutorial presented by Biomedical Scientist, Payalben Patel. This was followed by an interactive session on the topic of "Quality in the Laboratory", given by Biomedical Scientist, Samantha Sheppard, which included the delegates having to suggest some quality improvements for Viapath. 
Presentation skills
Karon Campbell, Viapath's Learning and Development Manager, led a training session on presentation skills which covered the skills and qualities of a good presenter as well as how peoples' different learning styles can direct how a presentation should be delivered.
Haematological malignancy case study
Viapath's Head of Cytogenetics, Robert Dunn, presented a case study on a patient with a haematological malignancy, explaining the patient's sample journey through the Haematological Malignancy Diagnostic Centre. Then the delegates took part in a karyotyping exercise where they had the task of pairing and ordering chromosomes to form a complete set. 
CV and interview skills 
Nick Parkin, Clinical Scientist in Molecular Genetics, gave the delegates some useful tips on how to improve their personal statement writing skills and how to shine in interviews, focusing on the requirements for healthcare science laboratory-based roles. 
VCDP close with some words of motivation
The VCDP was closed by Viapath's Chief Scientific Officer, Dominic Harrington, with some motivational words. He encouraged the delegates to become involved with things that they are passionate about, to seize the opportunities they are offered and to stay true to themselves.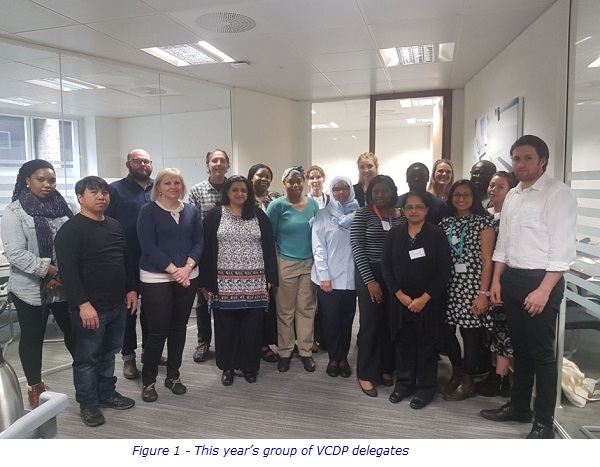 For further information, please contact:
FutureLeadersInInnovation [at] viapath [dot] co [dot] uk ">FutureLeadersInInnovation [at] viapath [dot] co [dot] uk 
Links:
Listen to pathology podcasts from the Future Leaders in Innovation at
http://www.viapath.co.uk/news-and-press/pathology-podcasts-from-viapath's-future-leaders-in-innovation-group