Testing for Sezary Syndrome by Flow Cytometry
What is Sezary Syndrome?
Sezary Syndrome is a rare condition which falls into a group of cancers known as cutaneous T-cell lymphomas. These cancers characteristically affect the skin causing lesions. Sezary Syndrome is an aggressive form where cancerous T lymphocytes, known as sezary cells, are present in the blood, skin and lymph nodes. Morphologically, these sezary cells have an abnormally shaped nucleus described as "cerebriform". This feature, along with the high nucleus-to-cytoplasm ratio, deep and narrow nuclear indentations, condensed chromatin at the nuclear membrane and a cytoplasm depleted of organelles, form the basis of the manual blood film assessment to identify and quantify these cells. However, this is a subjective process as it can be difficult to distinguish sezary cells from other small lymphocytes. 
The New Test
Viapath's Special Haematology Laboratory at Guy's Hospital has been working with Dermatology to introduce a new flow cytometry test for patients with Sezary Syndrome. The immunophenotyping protocol to identify and quantify sezary cells is based on detecting the presence and absence of antigens on the lymphocyte cell surface allowing for a more accurate assessment.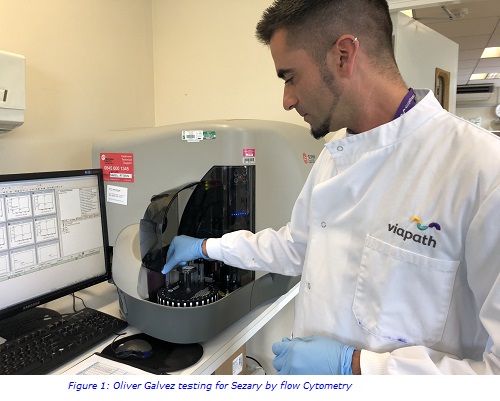 Testing by flow cytometry is now a requirement for disease classification and staging. It is also necessary for enrolment and monitoring in clinical trials, important in a disease which currently has a relatively poor prognosis. 
The International Society for Cutaneous Lymphomas (ISCL) proposed the following for diagnosis: a Sezary cell count ≥1000/μL, CD4/CD8 ratio ≥10, an increase in circulating T cells with aberrant marker expression (loss of T-cell markers CD2, CD3, CD4 and /or CD5), and evidence of a T-cell clone in the peripheral blood. In addition, according to the ISCL/EORTC classification, a loss of CD7 and CD26 expression by sezary cells and suggested CD4+CD7−cells of at least 40% and CD4+CD26− cells of 30% needs to be determined for a stage classification as a B2 (High blood-tumor burden) if the morphology assessment is unable to distinguish the sezary cells. Our new test is designed to analyse anomalies in the normal phenotype of T cells, the ratio of CD4 / CD8, as well as the loss of CD7 and CD26. In turn, it provides the percentage of cells as well as their absolute value.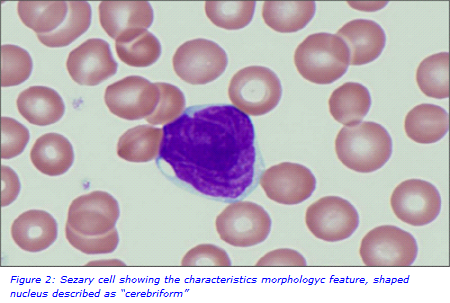 Future work
In February 2018, the 1st EORTC and Euroflow meeting for Sezary Syndrome reviewed the disease and existing practices for the identification of sezary cells. Now the aim is to establish a working group to standardise classification and analysis of the disorder, as has been done with other flow cytometry analyses. Funding is also being sort to further this work, with but also to widen the remit to other aspects such as the investigation and identification of better biomarkers for sezary cells.
For further information, please contact  
Yvonne Daniel                   
Yvonne [dot] Daniel [at] viapath [dot] co [dot] uk
References