Reach out for Healthcare Science Week
What is Reach Out for Healthcare Science? 
Healthcare scientists are vital to the functioning of the NHS. Even though they only make up 5% of the total NHS workforce, they are involved in over 80% of patient diagnosis. As students approach their GCSE's they have to think about their career options, making this the perfect time to present them with the various healthcare science career opportunities. 
The Reach Out for Healthcare Science programme is now in its sixth year with 300 students and over 80 healthcare scientists involved. The week-long Kings Health Partnership (KHP) event provides students who enjoy studying science at school access to healthcare science work experience and aims to increase students' and their families' awareness of the range of career opportunities in healthcare science. 
Students get to experience life in busy London hospitals and universities, meet healthcare scientists, take part in a wide range of practical activities using real equipment and find out what is required to follow a career in healthcare science.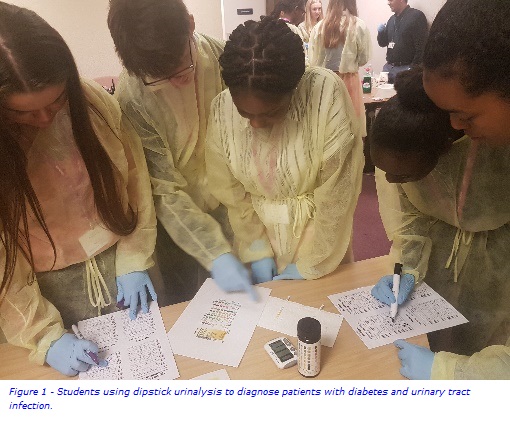 Reach Out for Healthcare Science 2018 
This year's event was organised by Viapath's Future Leaders in Innovation, in collaboration with Exscitec, the STEM outreach provider, and Richard Fernandez Principal Physicist at the Department of Nuclear Medicine at Guy's and St Thomas'.  The week commenced with a talk on "What is Healthcare Science?" given by Louise James a Senior Biomedical Scientist at St Thomas Hospital, followed by an inspirational life journey talk by the Deputy Chief Scientific Officer of NHS England, Fiona Carragher and finally a talk on genomics from Vivienne Parry, Science writer and broadcaster. 
The second half of the day involved leading the students through a case study about diagnosing a patient with severe acute respiratory syndrome (SARS), to showcase how each of the various healthcare science disciplines can be involved in diagnosing a single patient. 
Subsequent days involved various practical activities in each of the healthcare science disciplines (Life Sciences, Physiological Sciences, Medical Physics & Clinical Engineering and Bioinformatics). These included creating ear mould impression on dummy ears, extracting DNA from their own saliva, urine  analysis on patients with diabetes, capturing retinal photographs, making a cyclotron out of a ping pong ball and tin foil, and performing percutaneous coronary intervention. 
The week culminated in a poster session where the students presented what they learned during the week to each other, their teachers and parents. The energy and enthusiasm in the subsequent awards ceremony (with prizes kindly donated by the Wellcome trust) was a joy to behold.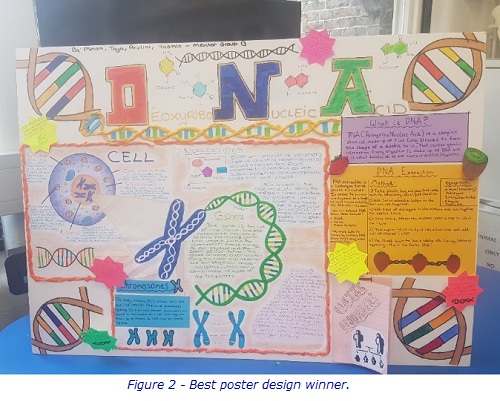 All the students highly valued meeting real healthcare scientists and finding out about the many and varied careers and career pathways. Over half initially thought that medicine and nursing were the only science related careers in hospitals and, before this week, couldn't name any healthcare science jobs. At the close of the week when students were asked what they'd consider a career in, comments included "I want to be a clinical scientist in Nuclear Physics" and "I would like to work in Haematology where they get to diagnose malaria". 
If you are interested in getting involved with the 2019 event please contact 
Krutika Deuchande 
krutika [dot] deuchande [at] viapath [dot] co [dot] uk ">krutika [dot] deuchande [at] viapath [dot] co [dot] uk 
Richard Fernandez               
richard [dot] fernandez [at] gstt [dot] nhs [dot] uk