NASCOLA post-analytical platelet external quality assurance (EQA). More than just an EQA scheme?
Tuesday, 12 December, 2017
Introduction: How are platelets involved in haemostasis?
After tissue injury an intricate series of events are activated to promote clot formation and prevent blood loss. These events consist of two stages: primary haemostasis, as the name indicates, is the immediate event that occurs following tissue injury, where platelets play a central role in forming a haemostatic platelet plug at the site of injury. This is followed by secondary haemostasis which involves the coagulation factor proteins which work in a cascade to form a blood clot, a more stable means of preventing excessive blood loss.
Normal platelet function is pivotal for the primary haemostasis process as the platelet plug is essential in the control of blood loss. When tissue injury occurs, the endothelial cells on the exposed vessel wall will start to release substances which can activate platelets. The activation of platelets causes them to change shape so that they can adhere to the vessel wall via certain surface receptors. Multiple platelets adhere to the site in this way and, as a result, stick together and aggregate. It is this aggregation that leads to the formation of the essential platelet plug at the site of blood loss. Therefore, platelet function testing is crucial for the diagnostic evaluation of common and rare bleeding disorders.
Brief background history on EQA consensus guidelines:
Guidelines on platelet function testing that provide information on acceptable methods, including light transmission aggregometry (LTA), were published in 2008 by the Clinical and Laboratory Standards Institute (CLSI). However these guidelines did not address the interpretation of platelet function testing.
In an effort to improve and standardise the evaluation of platelet function disorders, a study involving diagnostic laboratories in North America and the North American Specialized Coagulation Laboratory Association (NASCOLA) generated consensus guidelines that cover the important aspects of platelet function testing. This includes how to interpret and follow up on LTA abnormalities.
The consensus guidelines have the following key points:
A list of recommended agonists and the concentrations to use for platelet LTA for common and rare platelet function disorders.
A recommended approach to determine a reference range for the agonists used.
A recommended approach to interpret platelet LTA results.
Challenges for the laboratory undertaking platelet function testing
It takes a considerable amount of time for a Biomedical Scientist to gain competency in performing the platelet light transmission aggregometry (LTA) testing (the measurement of platelet aggregation in response to specific platelet agonists which stimulates aggregation).
Platelet function testing is complex, involving the need for fresh blood samples which have to be processed within four hours.
Patient testing must be performed in parallel with a healthy control donor sample.
Patients and donor controls must complete a questionnaire to identify any interfering drugs which may produce an abnormal trace.
Assessment and interpretation of platelet function testing by LTA  needs to be completed by looking at all the global tests (including ATP release assays and platelet morphology) alongside the clinical details for the patient. This requires careful scrutiny of the testing traces with a consultant from the Haemophilia Centre at St Thomas' Hospital.
The NASCOLA EQA Scheme
In order to meet these challenges, Viapath's Diagnostic Haemostasis laboratory decided to participate in the NASCOLA EQA scheme which has many benefits for the service user. The NASCOLA EQA scheme is unique: it is a bi-annual post-analytical interpretation exercise with individualised reporting on four case studies which have been developed in collaboration with the NASCOLA platelet working group. 
Case study example:
Patient is a 22 month old boy with a history of significant bruising and bleeding since birth. No family history of transfusions, von Willebrand Disease, factor deficiencies or platelet dysfunction.   NASCOLA summary: All platelet aggregation responses to agonists are reduced or absent and PFA is abnormal; the results are indicative of the condition Glanzmann Thrombasthenia (Figure 1).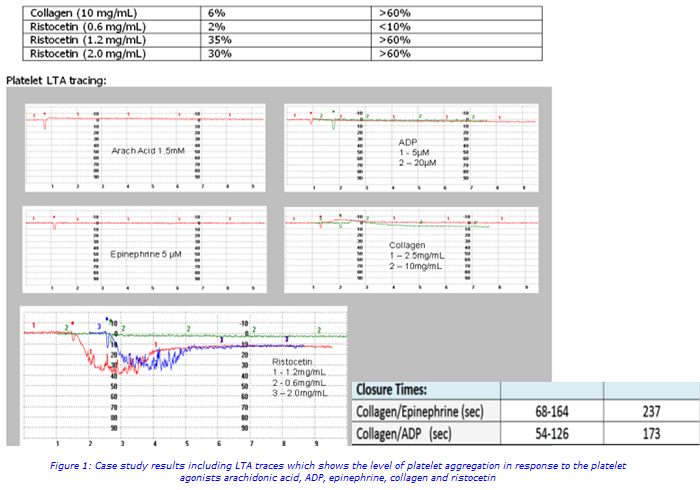 A panel reviews the reports summary submitted online and return a suggested diagnosis summary plus comments from the reviewer. Participation in the EQA scheme helps to promote collaboration between the laboratory and clinicians to facilitate the process of improving platelet function testing interpretations. NASCOLA has observed a significant improvement in laboratory performance over time on the exercises which suggests post analytical challenges are a helpful addition to laboratory EQA (in addition to fulfil ISO requirements for EQA participation) as well as educational for rarely seen platelet disorders.
The platelet testing service at Viapath
Platelet testing and interpretation is offered at Viapath's Diagnostic Haemostasis & Thrombosis laboratory based at St Thomas' Hospital. For more information about the test and the sample requirements please visit http://www.viapath.co.uk/our-tests/platelet-function-analysis-aggregometry.
For further information, please contact:
Elaine Bromidge, Senior Biomedical Scientist
Email: elaine [dot] bromidge [at] viapath [dot] co [dot] uk
Dr Gary Moore, Consultant Biomedical Scientist
Email: gary [dot] moore [at] viapath [dot] co [dot] uk
Dr Aine McCormick, Senior Biomedical Scientist
Email: aine [dot] mccormick [at] vaipath [dot] co [dot] uk
Reference
Hayward CPM,A Development of North American Consensus Guidelines for Medical Laboratories That Perform and Interpret Platelet Function Testing using light Transmission Aggregometry. Am J Clin Pathol 2010 134:955-963.