MRI virtual reality application helps children overcome their fears
The 2018 Viapath award for Innovation in Healthcare Science has been awarded to Jonathan Ashmore and Cormac McGrath, from NHS Highlands and Belfast Health and Social Care Trust, at the Advancing Healthcare Awards ceremony for their work helping paediatric patients to prepare for an MRI scan.
Children requiring an MRI scan can feel scared and anxious and the benefits of preparing children for an MRI are well known. Studies have shown that around 47% of children require a general anaesthetic for their scan, a figure that is reduced to 27% if appropriate preparation is used. This fact prompted the hospital play specialist team to approach the MRI department to obtain photographs of the scanner to use in preparing paediatric patients. Coincidently, at the same time, Jonathan had been "playing" with a 360 camera, trying to capture footage from within the scanner bore with the idea of using it for patient preparation. The play specialist team jumped at the chance of having this resource and so the project of using the 360 video to create a full virtual reality MRI experience began.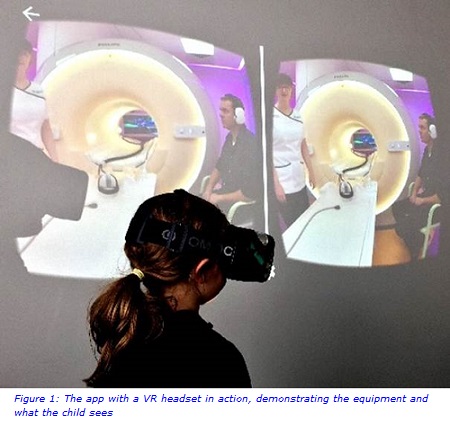 A team of physicists, play specialists, radiographers and an app developer came together to develop the app, which, when used with a virtual reality (VR) headset and a standard mobile phone, allows children to feel as though they are inside an MRI scanner and experience what it will be like on the day of their scan. 
To accompany the app, an MRI preparation book was also developed showing the full MRI journey, with clickable links to load the 360 videos from YouTube, which could also be displayed in a virtual reality headset.  
The app has been extremely well received. Unanimously, it was thought to have had a positive impact, and children seemed to find it enjoyable, informative and genuinely helpful to relieve their anxieties. One child even exclaimed "I can't wait for my MRI scan!" Even though the app is targeted at children, an unexpected outcome was the impact on parents who said the app made them feel much less anxious about their child's scan. It also reduced the need for some patients to be anaesthetised during the scanning, which had the added benefit of both reducing cost and increasing patient throughput.