Laboratory Quality Assurance for Rare Specialist Assays
Tuesday, 12 December, 2017
The Importance of External Quality Assessment in a Diagnostic Laboratory
External quality assessment (EQA) is intended to achieve inter-laboratory and inter-instrument harmonisation of results and to monitor the general level of performance in a laboratory. This assessment is retrospective and provides random examples of the way in which the laboratory performs. In a national scheme, a laboratory can check their performance regularly against that of other laboratories throughout the country including other laboratories using similar equipment, reagents and procedures. Participation in EQA schemes can help identify anomalies such as faults in instruments, reagents, preparations of quality control (QC) material or method procedures and help to ensure continuation of good laboratory practice.
Laboratory Quality Assurance for Rare Specialist Assays (LQARSA)
All laboratories need to be assessed against the International Standard ISO 15189:2012, to gain and subsequently retain UKAS accreditation. This is used as the basis to evaluate the competence of laboratories, as well as providing quality assurance for some of the rare specialist assays for which no EQA schemes are currently available. These tests do not have an affiliated EQA scheme, as they are performed in only a few specialised laboratories, often those that are linked to a trauma centre and/or Haemophilia Centre. Examples of such tests include platelet aggregation studies and Platelet Function Assays (PFA) for which samples must be processed and completed within 4 hours of the sample collection time.
In order to comply with the ISO 15189:2012 standards, Senior Biomedical Scientist, Charlotte Noronha implemented the LQARSA scheme in Viapath's Diagnostic Haemostasis & Thrombosis laboratories.
The scheme involves the exchange of specimens, which have already been tested at Viapath and other major Specialist centres across London and the UK (Table 1). This inter-laboratory sample comparison takes place at least twice a year and is dependent on the availability and suitability of samples, due to the rare nature of the tests.
Each LQARSA sample is analysed and the results compared between each specialist centre. If the results are not in agreement, advice must be sought from both laboratories' scientific lead; there will be joint discussions between both laboratories to reach a mutually acceptable outcome. A time frame of four weeks is given to resolve an issue and if this cannot be achieved, communication regarding a pending investigation must be actioned. At Viapath, decisions to take action must be discussed with Dr Gary Moore, Consultant Biomedical Scientist, to facilitate further investigation. The details of this will also be relayed to the governance report via Quality Control error logs produced with all non-consensus results.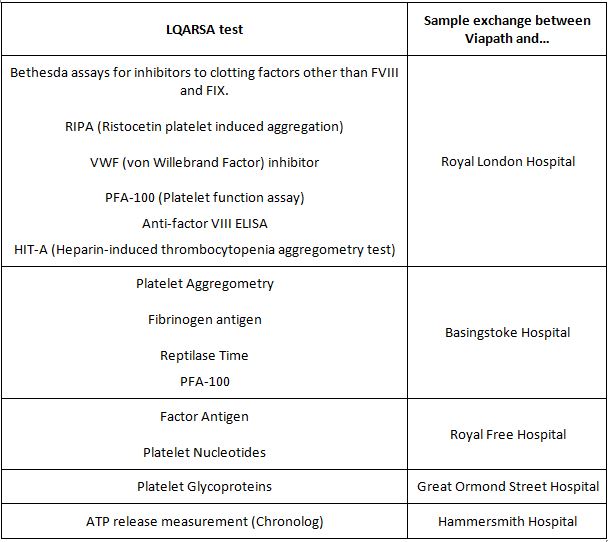 Inaugural Innovation and Collaboration Meeting
The Inaugural Innovation and Collaboration Meeting was held at St Thomas' Hospital on Tuesday 10th October 2017 with Viapath representatives from the Diagnostic Haemostasis & Thrombosis department and colleagues from other specialist hospitals in London and the UK. The purpose of the meeting was to share experiences in regards to sample exchange and comparing ISO non conformances. It was also used as a forum to discuss developments in cross-site testing and proposals for improving sample transit time between sites as sample processing time is critical. Furthermore, the implementation of intra-laboratory quality assessment where no cross-site exchange is possible was discussed; suggestions included re-analysing a sample previously tested and comparing the results to assess reproducibility and accuracy.
Helen Lewis, Haemostasis Diagnostics Manager at Basingstoke hospital, remarked "It was a most valuable opportunity to meet like minded scientists with very specific challenges, it has given us much to consider!"
Kurtis Lee, Lead Biomedical Scientist in the Haemostasis department at Hammersmith Hospital, thought "The meeting was particularly informative and provided a useful insight into various UKAS non-conformances and how these have been closed with different approaches".
Future Developments for LQARSA
Expansion of the LQARSA scheme was also discussed to incorporate rare specialist tests such as ATP release measurement (Chronolog), Anti-factor VIII ELISA and HIT-A to the repertoire of tests (Table 1). Furthermore, a proposal to include other specialist centres such as Kent and Canterbury and King's College hospitals was suggested. Due to the success of this meeting, a future meeting is to be scheduled next year.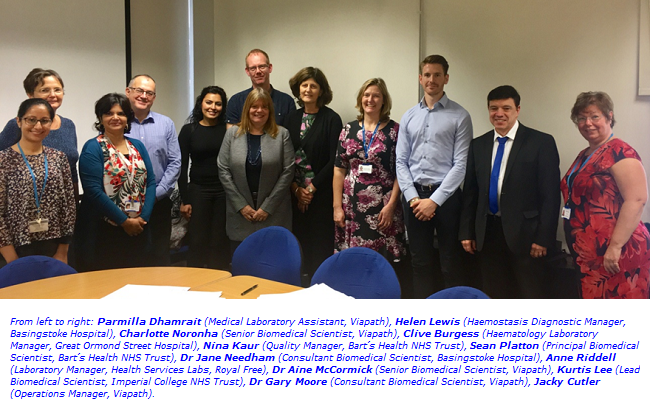 For further information about the LQARSA scheme, please contact:
Charlotte Noronha, Senior Biomedical Scientist, Diagnostic Haemostasis & Thrombosis
Charlotte [dot] Noronha [at] viapath [dot] co [dot] uk
Jacky Cutler, Operations Manager, Haemostasis & Thrombosis
Jacqueline [dot] Cutler [at] viapath [dot] co [dot] uk
Dr Gary Moore, Consultant Biomedical Scientist, Diagnostic Haemostasis & Thrombosis
Gary [dot] Moore [at] viapath [dot] co [dot] uk