How to assess folate (vitamin B9) status
Wednesday, 5 December, 2018
Folate is essential for the prevention of a wide spectrum of health issues, most notably megaloblastic anaemia and neural tube defects. Chronic suboptimal folate states may increase the risk of cognitive decline, depression, neuropathy and some cancers. However, this is often overlooked. The folate status of patients following cessation of treatment for previously identified deficient states is rarely monitored. There is also a poor awareness of the utility of functional markers of folate status and of the possible negative consequences of excessive folic acid intake. Viapath's Nutristasis Unit makes recommendations for the diagnosis of folate deficiency in the clinical setting. 
Folate deficiency and excess
Poor dietary intake is the most common cause of folate deficiency. However increased folate turnover (i.e. in pregnancy, breastfeeding, skin disease, gastrointestinal malabsorption and haematological disorders) can also lead to folate deficiency. Furthermore, folate deficiency is the most common cause of elevated plasma concentrations of total homocysteine (tHcy), a risk factor for cardiovascular diseases and dementia. 
The synthetic form of folate, folic acid, is added to foods and supplements. The intakes of folic acid, that exceeded the upper tolerable limit of 1 mg/day, increased in populations and unmetabolised folic acid is also increasingly detected in serum, especially in countries where a mandatory folic acid supplementation has been implemented. The excessive folic acid intake has been associated with adverse biochemical profiles and health effects. Most notably, the adverse effects were observed in the combination of high (defined as 20µg/L) folate with poor vitamin B12 status. Moreover, some researchers suggest that the daily upper tolerable limit for folic acid of 1 mg/day is set too high as adverse neurological effects have been observed from long-term exposure to folic acid at doses of 0.5-1 mg in the presence of B12 deficiency. The combination of high folate and low vitamin B12 in mothers may also contribute to insulin resistance in the offspring and a higher risk of small for gestational age infants. 
Diagnosing folate deficiency and excess
We propose three lines of folate status assessment (Figure 1). As a first line assessment, serum folate should be determined. Since serum folate concentrations rise for up to 2 hrs in response to folic acid/folate ingestion and then decline rapidly, a fasting sample is preferable for this measurement. 
As a second line testing, total plasma homocysteine (tHcy) and red cell folate (RCF) can be utilised. tHcy is a sensitive marker of folate status and correlates well with serum folate and RCF. However, its specificity is compromised in patients with deficiencies in vitamins B2, B6 or B12, as well as in the cases of inborn errors/polymorphisms in genes related to homocysteine metabolism i.e. MTHFR, MS and CBS. 
The concentration of folate in red cells is a strong indicator of folate status, because it is not influenced by transient changes in dietary intake, and it is set at the time of cell production. Low values strongly suggest folate deficiency.
As a third line testing, if clinically and analytically indicated, we suggest individual folate forms in serum, red cells or cerebrospinal fluid (CSF), folic acid and genetic testing e.g. polymorphisms in MTHFR gene. For example, individuals with the MTHFR 677TT genotype have lower 5-methyltetrahydrofolate (5-MTHF; the main form of folate) and higher homocysteine as a consequence of a diminished capacity to convert 5,10-methylenetetrahydrofolate to 5-MTHF. 
The analysis of folic acid has gained additional interest after reports about the unmetabolised folic acid in people consuming fortified foods and folic acid supplements, and reported correlations with adverse health effects.(2,3)  The concentration is typically < 2 nmol/L but values as high as 278 nmol/L have been reported in healthy individuals consuming 5 mg of folic acid daily for 90 days.(4) 
5-MTHF measurement in CSF has been utilised for the diagnosis and monitoring of cerebral folate deficiency (CFD), a neurological condition associated with low concentrations of 5-MTHF in the CSF and normal concentrations of serum folate/5-MTHF.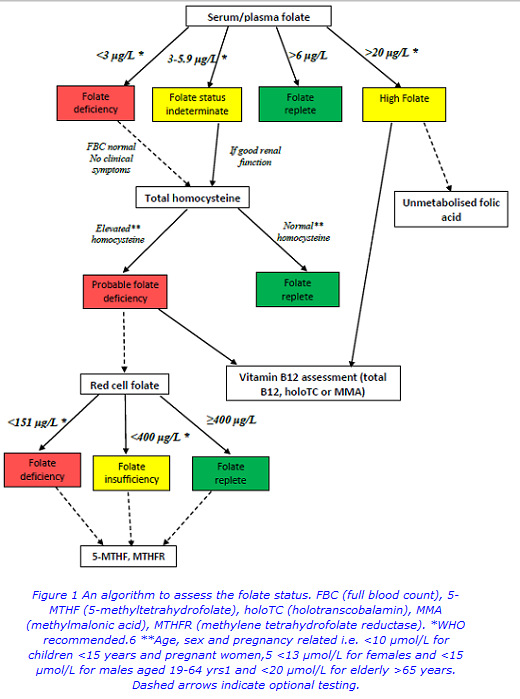 Conclusion
Low serum/plasma folate in the presence of clinical symptoms strongly suggests folate deficiency. Suboptimal folate status should be treated, especially if accompanied by elevated tHcy. Monitoring of folate status following cessation of folic acid supplementation is required to ensure adequate folate status. RCF testing may be helpful, providing that the appropriate cut-offs is used. High folate status should be reviewed and the adequacy of B12 confirmed.
Further information including folate absorption, metabolism, sample requirements, stability data and the interpretation of markers of folate status can be found at https://www.ncbi.nlm.nih.gov/pubmed/30228213, or contact:
Agata Malefora
agata [dot] malefora [at] viapath [dot] co [dot] uk
References
Sobczynska-Malefora A, Harrington DJ, Voong K, et al. Plasma and red cell reference intervals of 5-methyltetrahydrofolate of healthy adults in whom biochemical functional deficiencies of folate and vitamin B 12 had been excluded. Adv Hematol 2014;2014: 465623
Patel KR, Sobczynska-Malefora A. The adverse effects of an excessive folic acid intake. Eur J Clin Nutr 2017;71: 159-163
Selhub J, Rosenberg IH. Excessive folic acid intake and relation to adverse health outcome. Biochimie 2016;126: 71-78
Paniz C, Bertinato JF, Lucena MR, et al. A Daily Dose of 5 mg Folic Acid for 90 Days Is Associated with Increased Serum Unmetabolized Folic Acid and Reduced Natural Killer Cell Cytotoxicity in Healthy Brazilian Adults. J Nutr 2017;147: 1677-1685
Refsum H, Smith AD, Ueland PM, et al. Facts and recommendations about total homocysteine determinations: an expert opinion. Clin Chem 2004;50: 3-32
WHO. Serum and red blood cell folate concentrations for assessing folate status in populations. WHO/NMH/NHD/EPG/15.01. 2015. Vitamin and Mineral Nutrition Information System.