Faster approach to detecting common bacterial gastrointestinal pathogens by multiplex PCR in faecal samples
Common gastrointestinal pathogens that cause "food poisoning" are very prevalent in the UK. Food poisoning can cause symptoms such as vomiting, diarrhoea, stomach cramps and fever depending the bacteria or virus causing the infections. Generally, food poisoning may occur after eating undercooked food e.g. chicken, incorrectly stored and prepared food, eating food washed in contaminated water i.e. salad leaves and from eating food prepared by someone who already has the bacteria.   Actually the term "food poisoning" is a bit of misnomer as many cases of bacterial gastrointestinal infections are spread by other routes of transmission that are not necessarily food related. These include: person-to- person spread, transmission through contact with animals e.g. children contracting E.coli O157 when visiting petting farms, water contaminated with human or animal faeces and insect vectors e.g. flies. 
For the UK, all food poisoning bacteria isolated in microbiology laboratories are reportable to the government public health organisations. The most frequently isolated bacterial food pathogens are Campylobacter spp, Salmonella spp, Shigella spp and Escherichia coli O157. Figure 1 below show the number of cases of common bacterial gastro-intestinal infections in the UK in 2015 and 2016 for England, Wales, Scotland and Northern Ireland.

Faster detection by Multiplex Polymerase chain reaction (PCR)
From August 2015 to August 2016, before PCR was introduced, the Microbiology Laboratory at St Thomas's Hospital London, received 8000 specimens for faecal culture from both GP and hospital patients. Culture methods for detecting these gastro-intestinal pathogens, involved the culture of the faeces onto culture plates and into broth  i.e. Xylose Lysine deoxycholate (XLD) and selenite broth for Salmonella and Shigella, Sorbitol MacConkey for E.coli O157 and  blood free campylobacter agar for Campylobacter.  After an incubation of up to 48 hours, any "suspicious" bacteria that might be causing the infection are selected from the other non-pathogenic bacteria found in faeces. These then undergo further identification, using the MALDI-TOF (matrix assisted laser desorption and ionisation – time of flight) spectrometry, biochemical tests and serology before the microbiology clinician is informed of a gastrointestinal infection. 
In the summer of 2016, Viapath Infection Sciences - Microbiology Laboratory, in collaboration with the Centre for Clinical Infection and Diagnostics Research (CIDR), introduced multiplex PCR technology. This is used to detect four common causes of gastrointestinal infection in faecal samples from hospital patients (patients in hospital <3 days) and GP patients. Other gastro-intestinal infections caused by agents such  as Vibrio spp, Yersinia spp and parasites are not currently detected by PCR in this laboratory, so other laboratory techniques are still used.
CIDR with Viapath validated the multiplex PCR using the Becton Dickinson Max (BDMAX) analyser (see figure 3 below). Small amounts of faecal samples are placed into the PCR cartridges with the reagent strips and placed onto the BDMAX. Time from processing the sample to the final PCR result takes just under 3 hours.  All PCR results are reported immediately through our LIMS (Winpath) system and any positive samples for Salmonella, Shigella and E.coli (vero-toxin producing) are subsequently cultured for species specific serology and antibiotic sensitivity testing.  PCR negative samples and samples positive for Campylobacter are not cultured (as the illness is usually self-limiting and can be treated with antibiotics for severe cases without significant concern of antibiotic resistance). The laboratory has found this new PCR platform fits in well to the laboratory workflow, has dramatically reduced the turnaround times for the results and significantly reduced the numbers of faecal cultures performed.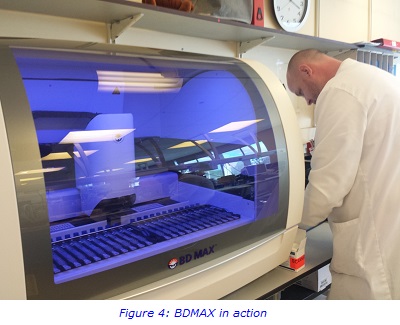 Impact on patient care and Infection Control
Prior to the introduction of this molecular panel, the laboratory turnaround time for detection of these pathogens was 66.5 hours which meant that often the patient had been discharged from hospital by the time the result was known. After introducing this molecular panel, the laboratory turnaround time was reduced to just over 3 hours, meaning that by performing two runs daily a same day result could be provided for all patients. As well as improving sensitivity, the faster turnaround time has allowed much better management of patients, particularly in relation to infection control. As most positives are also cultured and sent on to the reference laboratory, we can maintain the useful information gained from culture for public health and epidemiology purposes.
For more information about this test please contact
Lisa Bryan, Microbiology Operations Manager 02071883114
Lisa [dot] bryan [at] viapath [dot] co [dot] uk
Lyndsay Rowley, Senior Biomedical Scientist 02071883111
Lyndsay [dot] rowley [at] viapath [dot] co [dot] uk
Dr Simon Goldenberg FRCPath, HipHIC, MD Consultant Microbiologist and Infection Control Doctor,  Guy's and St Thomas' NHS Foundation Trust, London