Detectives At Work: Analysing A Substance Of Unknown Origin
Wednesday, 26 April, 2017
Analysis of an unknown substance can be extremely useful in certain scenarios. For example, using toxicological analyses to identify substances (e.g. tablets, powders, liquids) found on a patient may aid clinicians in cases of poisoning, particularly if the patient is unconscious. Substance identification may also be of use when an individual is taking non-prescribed medications (e.g. dietary supplements or herbal remedies) as the analysis may aid the clinician in discerning what has caused a change in health.
In recent years, the market for dietary supplements has grown and many products are easily available on the internet. These products lack any formal regulation or quality control, and despite being advertised as 'natural' and 'safe', some may in fact contain pharmaceutical drugs or ingredients that are known to either interact with other prescription drugs or are toxic. In terms of illicit drugs, a parallel can be drawn with novel psychoactive substances (often marketed as 'legal highs') where, due to the rapidly changing production of these compounds, users may be unaware of what they are actually taking.
What could a "Diet Pill" contain?
Viapath's Toxicology laboratory was approached by the producer of a new 10-part TV series called "Don't Tell the Doctor".  The programme tackles some of the dangers of self-diagnosing, buying medication online and other medical issues affecting young people. A group of four young qualified doctors take appeals from young people in the UK who have various conditions and illnesses. Each episode helps four people find the right treatment after having wrongly self-diagnosed themselves. One of the patients had bought "diet pills" from uncertified sources; the doctor wanted to identify what was actually present in these pills and to determine whether this might account for their clinical symptoms.
A single green and white capsule was submitted to Viapath's laboratory for analysis (Figure 1). Using high-resolution accurate mass spectrometry, two compounds were identified in the capsule; sibutramine and phenolphthalein (Figure 2). Sibutramine is a serotonin reuptake inhibitor (SNRI), which has been used in the  treatment of obesity. However, many countries, including the UK, have now withdrawn the drug from use due to concerns over potential adverse cardiovascular side effects (e.g. hypertension, tachycardia, myocardial infarction). Phenolphthalein has been used as a laxative, but the drug has since been withdrawn due to concerns over carcinogenicity. Both sibutramine and phenolphthalein have been reported as commonly detected components of numerous different weight-loss tablets bought over the internet. The full story was shown on 5Star on 6th April.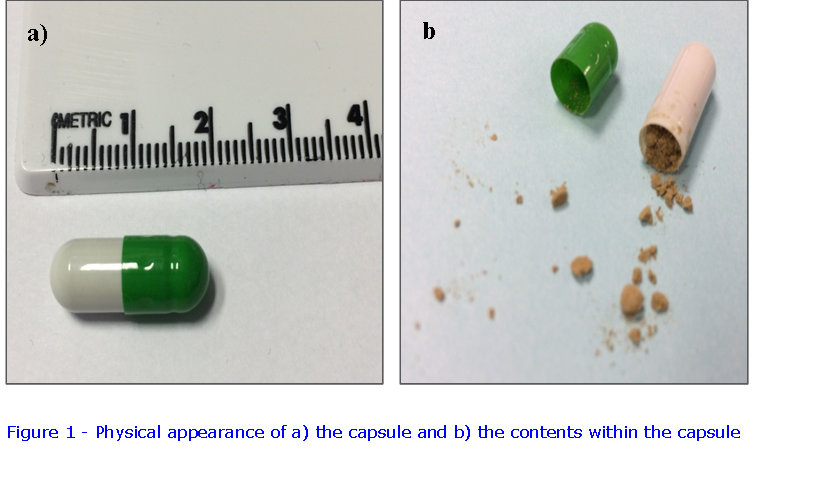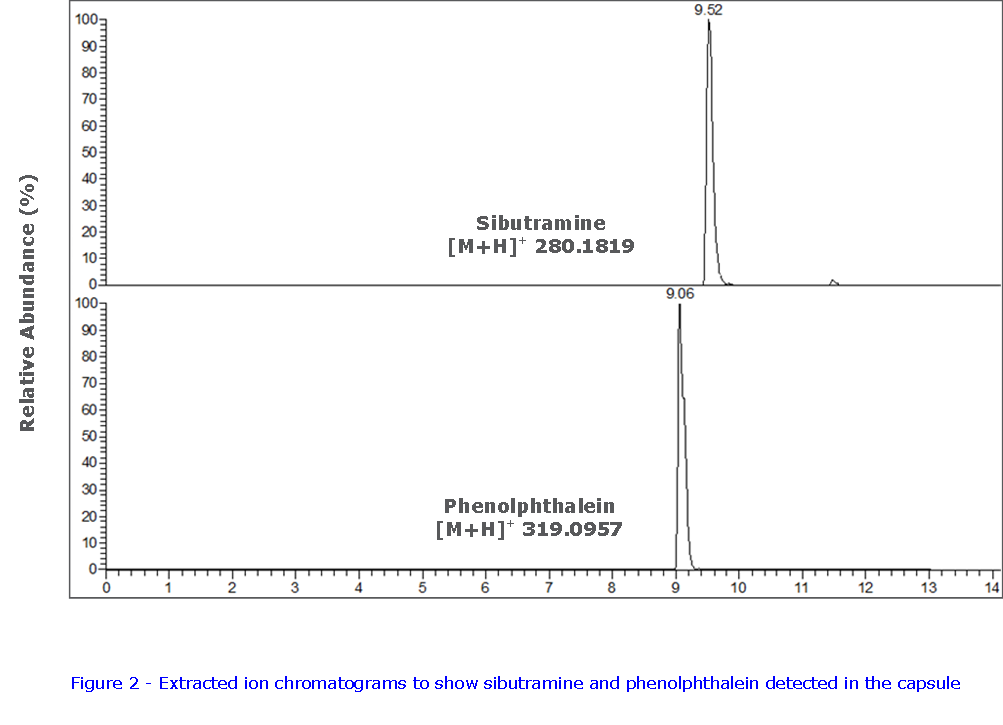 How can Viapath help identify unknown substances?
An "unknown substance screen" is offered by Viapath's Toxicology Department, based at King's College Hospital. Substances ranging from powders and pills to herbal material, cigarette stubs and liquids can be analysed. A urine sample from the patient may also be sent so that any compound identified in the substance can be looked for in the urine sample as well. It is best to speak directly to the laboratory before sending substances, so that we can give advice specific to the individual case.
Due to the complex nature of unknown substance screening, turnaround times vary, usually taking between 5-10 working days. In some cases, identification may not be possible.
Liquid chromatography coupled to high-resolution accurate mass spectrometry is used for unknown substance screening. A solution of the unknown substance is analysed and from this the accurate mass spectrometry is used for unknown substance screening. Computer software is used to ascertain a theoretical chemical structure, which can be searched for in databases to try and identify a match. Numerous confirmation criteria are used to identify a substance, including accurate parent mass, fragment ions, retention time and isotope pattern. Where possible, any analyte identified in a substance is confirmed through analysis of a certified reference standard.
For further information please contact:
Telephone: 020 3299 5881
Email:

kch-tr [dot] toxicology

[at]

nhs [dot] net
Relevant Publications
Belsey SL and Karch SB (2015) Substance Misuse: Herbal Medicine, In Encyclopaedia of Forensic and Legal Medicine (Second Edition), edited by Jason Payne-James and Roger W. Byard, Elsevier, Oxford, Pages 377-387, ISBN 9780128000557.