Changes in HbA1c reporting
Tuesday, 13 February, 2018
Rationale for Change
Viapath performs HbA1c testing at several of its sites, including St Thomas'   Hospital, King's College Hospital and the Princess Royal University Hospital. To meet with national guidance, from 1st February 2018, Viapath standardised its reference ranges and interpretative guidance for HbA1c: the standardised non-diabetic reference range on all samples being 20 – 41 mmol/mol in IFCC units or 4.0 – 5.9% in DCCT units. Dual unit reporting will be continued.
Interpretative Guidance
HbA1c result interpretation depends on whether the test is being used for the diagnosis of type 2 diabetes mellitus (T2DM) or for monitoring diabetic glycaemic control. Our reports are now aligned to latest guidance and contain interpretative information for both possible scenarios. The exact report layout will depend on the Viapath site generating the result, due to I.T. differences across our sites.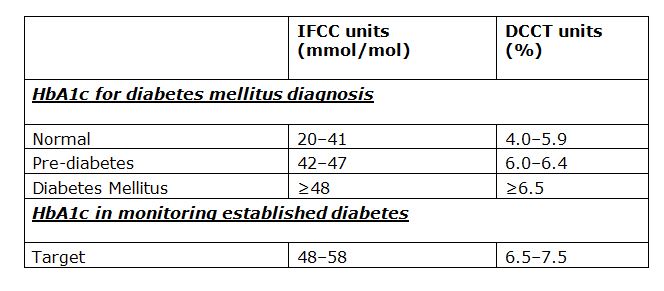 Please note that in accordance with NICE guideline PH38 2012 (updated 2017), diagnosis of T2DM in asymptomatic individuals requires two results ≥48 mmol/mol (≥6.5%). If the second sample is <48 mmol/mol (<6.5%) the person should be treated as at high risk of diabetes.
Other Considerations
The diagnosis and monitoring of diabetes mellitus using HbA1c is dependent on normal erythropoiesis, no genetic or chemically altered haemoglobins, normal glycation and normal erythrocyte destruction rates. These should be considered as part of routine patient management, and complementary glucose measurements used in situations where HbA1c results may not be reliable.
Advice/ Feedback  
We would like to take this opportunity to apologise to our users for any previous confusion resulting from non-standardised HbA1c reporting practices.
Please do not hesitate to contact us if you have any questions or feedback:
Dr. David Taylor, Principal Clinical Scientist/Scientific Lead 
Department of Clinical Biochemistry, King's College Hospital 
020 3299 3009 
davidtaylor8 [at] nhs [dot] net
Dr. Katharine Bates, Principal Clinical Scientist 
Department of Clinical Biochemistry, Princess Royal University Hospital 
01689 864282 
Katharine [dot] bates [at] nhs [dot] net
Dr. Sally Brady FRCPath, Consultant Clinical Scientist/Scientific Lead 
Blood Sciences, St. Thomas' Hospital 
020 7188 9065 
sally [dot] brady [at] viapath [dot] co [dot] uk
References:
NICE PH38 2012 (updated 2017): 
https://www.nice.org.uk/guidance/PH38