A day in the life of….A Senior Biomedical Scientist in Viapath's Red Cell Laboratory
Wednesday, 11 October, 2017
The title of Senior Biomedical Scientist sounds quite lofty and intelligent to non-scientists, yet many people in the position will tell you it is just a job.  Whilst at times it may feel this way, the role does require knowledge and experience, an ability to work and communicate effectively with colleagues, and a willingness to move with the changes in technology.  In the Red Cell Laboratory, we bring all of this together  working as a team to get results out in a timely manner whilst keeping up with the quality standards that we must adhere to in order to produce reliable results.
So here is a brief example of my day, how does it compare to yours?
·  Get in early, to get a head start on what I know will be a busy day
·  Start performing some laboratory tests such as assays for red cell enzyme deficiencies, EMA for hereditary spherocytosis, HPLC analysis of haemoglobinopathies and sickle screening in newborns
·  Answer the phone
·  Have a brief staff meeting
·  Check some results (answer a query from another staff member in between)
·  Start authorising some results (answer a phone query in between)
·  Quickly do a quality check that a staff member needs doing before they can continue with their work
·  Finish authorising that set of results
·  Type up a letter to be sent to counsellors regarding follow-up testing of a patient, and try to get it signed by a manager who is in meetings all day
·  Help another staff member with an assay problem and learn that I am surprisingly handy with a screwdriver
·  Finish off a PowerPoint presentation for an educational meeting with other laboratories, your clinical lead and some trainees
·  Go to lunch
·  Return from my brief respite only to find an unexpected sample has arrived which requires processing that afternoon and collaboration with another department (who are also short-staffed)
·  Take a phone call querying a result from a doctor/midwife/counsellor/another laboratory
·  Check some more results in between doing that urgent test
·  Realise I still haven't checked my emails for the day, or started that weekly results list my colleague (who is on annual leave) usually does
·  Get the list done and start planning the next day!
Some of the Red Cell Laboratory samples are urgent, as Viapath serves a large community of sickle cell and thalassaemia patients who sometimes require urgent pain treatment and transfusions, and special measures during operations, as well as providing a selection of other specialist red cell tests.  
My brief description above shows how busy and demanding our laboratory can be, yet at the same time it provides a challenge, which is what keeps the work interesting.  I have been in this role for over four years, yet I still learned two new things, in passing ,today from my colleagues. 
There are always new issues to confront, and a variety of people to interact with.  And a love of science is a must!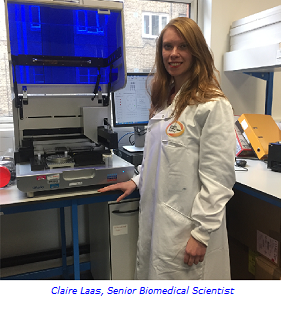 For further information about the Red Cell Laboratory, please contact:
Claire Laas, Senior Biomedical Scientist:
claire [dot] laas [at] nhs [dot] net
Chris Lambert, Service Delivery Manager: chris [dot] lambert [at] nhs [dot] net
Or visit: http://www.viapath.co.uk/departments-and-laboratories/red-cell-centre-mo...