Partners in progress
On April 1, 2021 SYNLAB officially formed a new pathology partnership with Guy's and St Thomas', and King's College Hospital NHS Foundation Trusts to deliver and transform NHS pathology services across South East London.
The same excellent scientists, clinicians and other colleagues from Viapath and the NHS will continue to work under the new partnership arrangements, and their knowledge and expertise will greatly benefit the transformation process.
The partnership will serve 1.7 million people living in South East London, as well as hundreds of thousands of patients from outside the region who use local healthcare services.
How we began
With internationally respected NHS heritage, and starting with the right scale and breadth of expertise, Guy's & St Thomas' NHS Foundation Trust decided to form a centre of pathology excellence*.
We were joined 18 months later by the equally renowned King's College Hospital NHS Foundation Trust, completing the core of our expertise.
This has given us over 900 hundred years of clinical and scientific excellence to build upon.
The pathology partnership between SYNLAB and the NHS in South East London will see an evolution of local pathology services, building on the strengths of what is in place today. SYNLAB's global laboratory and diagnostic network will provide access to a wide range of clinical, scientific and operational expertise, as well as innovative research and development on an international scale.
*This was based on the Carter Review of Pathology Services in 2008, which led to the government recommending the creation of a small number of advanced pathology facilities to serve hospitals in England.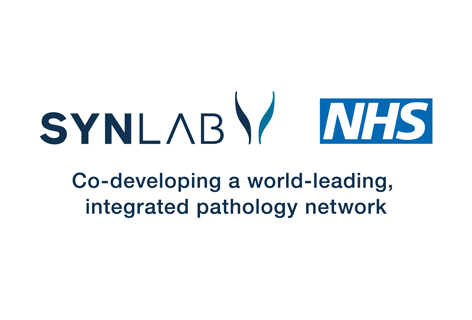 April
A new era of pathology provision
The SYNLAB/NHS partnership begins, with a vision of co-developing a world-leading, integrated pathology network in South East London.
January
More streamlined, modern pathology service for customers
Three new entities created - Viapath Group, Viapath Analytics and Viapath Services - in New Year re-structure.
May
Viapath: Our new brand capturing our journey of pathology transformation
We are a scientific organisation with a clinical purpose, and we have spent recent years building expert teams and effective systems to bring about pathology transformation. Our successes in a radically changing market demonstrate that our customers, and the pathology community in general, embrace our distinctive offer and commitment to improve patients' lives.
January
St. Thomas' and Kings consolidate expertise and experience
Bringing these two world-class Toxicology laboratories together on one site created a large scale facility that is more resilient and cost-efficient, enabling us to bid competitively for services across SE London and beyond.
April
Working together to meet the challenge
In order to handle the high volume of tests required by the NHS HPV screening programme, we consolidated the cervical cytology laboratories at King's and St Thomas', allowing us to process approximately 60,000 slides per year
June
Innovation Academy: a peer-to-peer platform for innovation
We formed our Innovation Academy initiative to encourage peer-to-peer networking and communication to advance pathology services. Over 100 delegates attended our inaugural symposium in London, which included presentations on subjects such as Child Health; Infectious Diseases; and Next Generation Diagnostics.
September
Improving patents' experience of blood sampling
With the aim to improve the patient pathway and enhance patients' service experience, we asked how we could improve the process of have a blood sample taken. This included reducing waiting times from nearly a hour to 10 minutes and automating reception services.This system has already been successfully introduced at Guy's and St Thomas'.
Integration Engine project: Implementing a platform to ensure the smooth flow of data
The Integration Engine is software that manages workflow and data between all of our sites, allowing projects to be routed to the right place in the right format. This has allowed different sites to communicate better and increase efficiencies allowing for faster response and speed of delivery.

Newborn Screening project: delivering a joined-up service to benefit patient lives
The Newborn Screening project enables the linking of newborn and antenatal screening results. This crucial link stands to improve the robustness, flexibility and scalability of our NHS service.
October
Innovation fund announced
Scientists are invited to apply for funding to develop new tests. The proposed new tests will be reviewed by a panel of experts representing our core capabilities, and winners will be awarded funds.
December
Innovation Academy: second event held
Our second Innovation Academy symposium took place at the Royal Institution in London, with presentations on Therapeutic Drug Monitoring, infectious diseases and transplantation and oncology.
Continued growth allowing room for innovation
2012 was a milestone year for us. The organisation successfully achieved financial breakeven after implementing an integrated cost improvement programme.
2012 saw us translate the operational plans put in place during 2011 into a sustainable financial turnaround. We are now focused on investing in innovation and building on our reputation as a high quality laboratory provider…
January
Combining expertise to provide a better service
Our service integration programme begins, and we are awarded national contracts for screening services, allowing our customers to realise the benefit from our newly expanded partnership.
December
Operational expertise supports clinical expertise
A new management team led by Richard Jones as CEO early in 2011 bring significant changes in leadership capability and operational plans.
October
Adding Over 900 years of clinical expertise
King's College Hospital NHS Foundation Trust joins GSTS as an equal share partner, adding the largest, most innovative automated laboratories in Europe.
February
Our journey to transform pathology services begins
The scientific expertise of Guy's & St. Thomas' NHS Foundation Trust is paired with the back-office support of Serco to form the joint venture GSTS pathology.
December
Our network of expertise expands
GSTS joins forces with Bedford Hospital to run pathology services, allowing us to strengthen our capabilities, and in turn, better serve our customer needs.